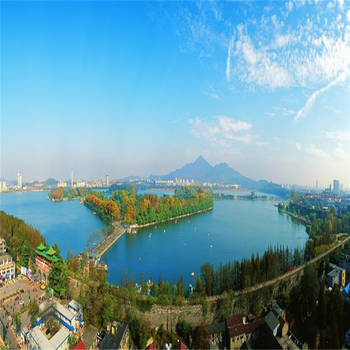 The Lakeview Xuanwu Hotel (Nanjing Xuanwu Fandian) is located in Nanjings central business district within 10-minutes drive from Nanjing Railway Station, International Exhibition Center and the highway. Guests will also find the metro station within walking distance to this Nanjing hotel.
Looking out through guestroom windows, guests can take in views of either the city landscape or Xuanwu Lake.
For meals, diners can sample the Chinese, Western and seafood dishes in the Lake-view Revolving Restaurant with an open kitchen, while taking in the spectacular panoramic views of Xuanwu Lake, the city and far-off mountain.
Guests with business to conduct can take advantage of the business center and meeting facilities. Other offerings include free parking, airport pickup service and a gift shop.
When guests have free time on their hands they can enjoy the steamy sauna and indoor swimming pool or head to the beauty salon to get their hair done. Fitness facilities are also available for those whod like to stay fit.
This Nanjing hotel was given the WorldHotels Performing Excellence Award in 2010 and it continues to provide guests with high quality service.